CLIMATE CHANGE LIVING LAB: STI Viewer Workshop - Agri-food
H2020 IntelComp project aims to deliver a platform that provides tools for assisting the whole spectrum of STI policy, i.e., agenda setting, modelling design, implementation, monitoring and evaluation. It will do so by involving multi-disciplinary teams to co-develop innovative analytics services, Natural Language Processing pipelines and Artificial Intelligence workflows and by exploiting open data, services and computational resources from the EOSC, HPC environments and federated distributed operations at the European Union, national and regional level.
This workshop focused on the "Agri-food: Indicators, Trends, Publications and Innovation" and took place on Tuesday, 6th of June 2023. The workshop organized by ATHENA RC and is part of the Adaptation to Climate Change Living Lab. This Lab is mostly addressed to policymakers and analysts but has also representatives from Academia and Society. It gave the chance to participants to familiarize with the STI Viewer, an Interactive AI-assisted, data and visualization platform for monitoring, evaluation & policy making.
Objectives
This workshop aimed to introduce you to the STI Viewer, an interactive platform of data and visualization with the help of AI for the monitoring, evaluation and drafting of policies. STI Viewer is a set of well-documented, reliable and timely indicators that can be divided into multiple dimensions for an in-depth analysis. It is supported by automated text analysis workflows in HPC that rely (mostly) on open data sources. Through this co-creation process, we will identify new capabilities and improve the developed tool, covering, in the best way available, your needs.
STI Viewer will aid in:
✓ in-depth information for a topic
✓ quickly identifying the essence of data
✓ utilizing data that will help you in your day-to-day job
✓ identifying novel practices/solutions and research/technology innovations
✓ identifying popular/trending issues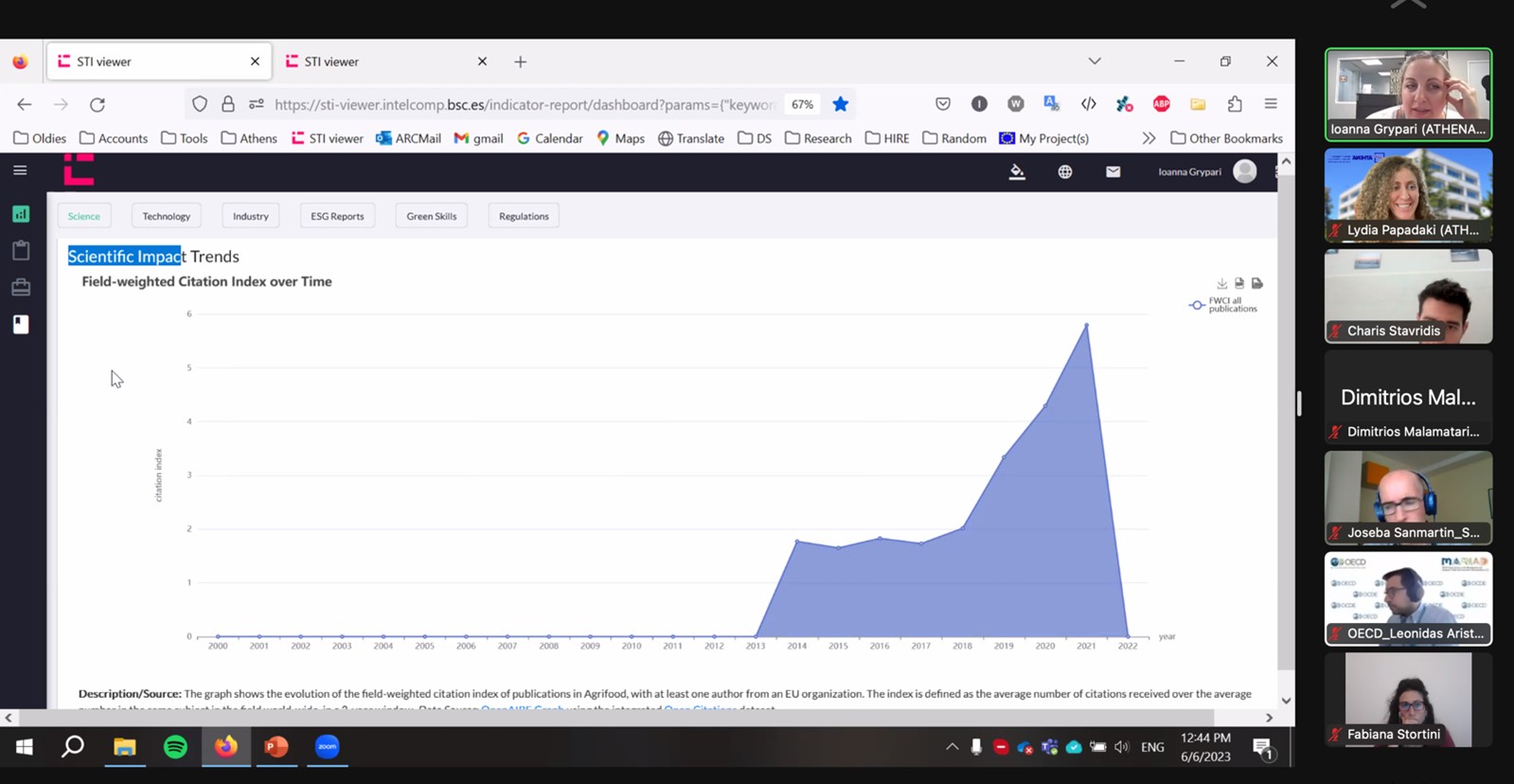 Audience
It was attended by policy officers and policy analysts in Greece and EU, specifically, from the OECD -Directorate of Science, Technology and Innovation (STI), the Soil and Water Resources Institute, Hellenic Agricultural Organization "DEMETER", the Soil and Water Resources Institute (SWRI) - Hellenic Agricultural Organisation (HAO), the Foodscale Hub in Greece, American Farm School, University of Pisa, Spanish Foundation for Science and Technology and IntelComp partners.
ATHENA Research and Innovation Centre, Sustainable Development Unit is participating in the IntelComp H2020 project. Principal Investigator (PI) is Prof. Koundouri and members of the team are: Prof. Nicos Theodossiou, Charis Stavridis and Lydia Papadaki.
Agenda
12.00 – 12.10
Welcome remarks
Phoebe Koundouri, School of Economics and ReSEES Laboratory, Athens University of Economics and Business; Department of Technology, Management and Economics, Technical University of Denmark; Sustainable Development Unit, ATHENA RC; Sustainable Development Solutions Network-Europe; Academia Europea
12:10 – 12:25
Get to know each other
12:25– 12:30
Short Presentation of the IntelComp project and goals of the workshop
Lydia Papadaki, Researcher, ATHENA RC
12:30 – 12:50
Presentation of STI Viewer tool
Ioanna Grypari, Senior Researcher, ATHENA RC
12:50 – 13:20
Discussion on the usefulness of the existing indicators and capacities of the STI Viewer tool
13:20 – 13:50
Prioritization and discussion of areas to be integrated in the STI Viewer
13.50 – 14.00
Concluding remarks and reflections